Pallet Conveyors
When your productivity depends on being able to move pallets through your warehouse quickly and efficiently, you need more than a stand-alone piece of equipment—you need a custom-designed pallet conveyor system. Whatever material handling challenges you face, EHS can build in solutions that measurably improve your workflow.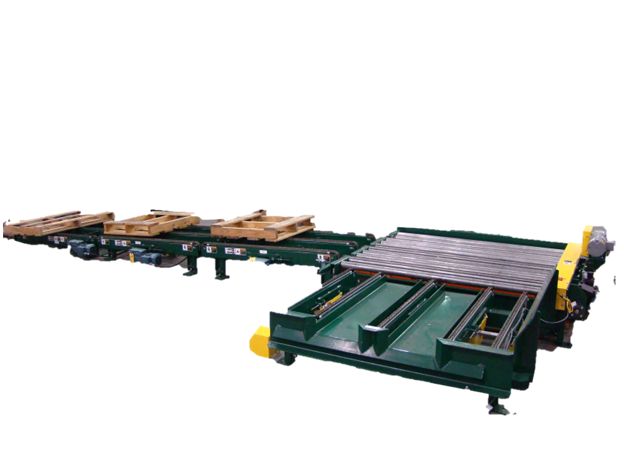 Key Features of Pallet Conveyor Systems
To move pallets throughout your facility, we can configure a heavy-duty roller conveyor, incorporating straight sections as well as turns and curves with chain transfers and accumulation tools. With an industrial conveyor system, even large and heavy loads can be handled and moved with ease—reducing labor, preventing product damage, and freeing up both staff and equipment for other tasks.
A comprehensive solution may incorporate a variety of material handling equipment. To increase efficiency, a pallet stacker can handle up to 40 cartons per minute. A group of robotic pallet stackers called cells can also be utilized to enhance efficiency.
Other equipment such as pallet lifts, levelers, and positioners can provide an ergonomic working height, thereby reducing strain and repetitive motion injuries. Pallet tilters, which offer a range of motion up to 90° with weight capacities up to 6,000 lbs, can facilitate loading and unloading.
The right solution will depend on your needs, including typical pallet size and weight, the distance pallets need to travel, and existing material handling equipment to integrate with.
Pallet Conveyor Equipment We Carry:
Chain-driven live roller conveyors
Ball transfer conveyors
Gravity roller conveyors
Slat conveyors
Heavy-duty conveyors
Tell Us About Your Project:
Pallet Conveyor Manufacturers We Carry:
Pallet Conveying & Moving Gallery: